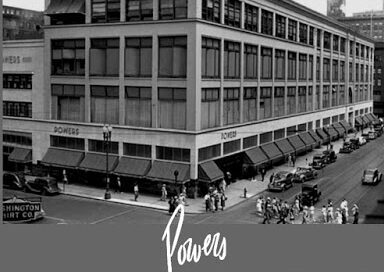 When I was seventeen, I worked as a waitress at Powers Luncheonette. The restaurant was located in the basement of the Powers Department Store in Minneapolis, and had a steady stream of regulars, along with some irregulars.
The waitresses included some gems that had been there forever. Colorful little ladies mostly over sixty years old with the oldest being in her late eighties. There were only a couple younger waitresses, me as the youngest, and Barb who was twenty-seven.
Barb and I became fast friends. She had one of those contagious laughs and thought everything was funny. Barb and I worked the lunch counter together before we were allowed to move to any of the big tip tables. It wasn't unusual to get a 25 cent tip and that was pretty much most could afford. She and I would laugh all day long and it made the place a bit more bearable.
Ida, was by far the oldest and she shuffled tiny but deliberate steps. She only had four tables to manage and she was very defensive of her territory. She also stole your tips if she relieved you for breaks.
Billie was a cute little lady with a tight bun that started each shift doing stretches in the locker room. She was a sweetie pie and a very efficient waitress. There was also Alma who was from Latvia and was very severe. Then there was Doris, Geraldine, Betty, Barb and more. All cute little ladies with very different backgrounds and personalities to match.
The luncheonette had been a big deal back in its hay day. There was a huge beautiful U-shaped lunch counter made of marble and had mirrored pillars that reached the ceiling. There were also tables on either side and the right side was considered the elite side where all of the executives and their guests would be seated. The left side is where the more colorful diners sat. We had many homeless come in for our 25 cent bottomless cup of coffee or to just get out of the elements.
Teddy was one such customer. He was a homeless vet that would talk to people that only he could see. Sometimes he even had arguments with them. Another regular was a woman who had to check for bugs before we could put coffee in her cup. I had to wonder if that had happened once before but she was obviously homeless too and had shopping bags filled with newspaper.
One day while I was working the left side, two nice looking couples were seated next to each other and struck up a conversation that I could overhear in bits and pieces as I took care of the others around them. The younger couple were newlyweds and had told the other couple that they couldn't afford a honeymoon. The older couple began to tell them "they had a place in Florida" and that they could stay there for free. I thought to myself that this was a really nice gesture and the newlyweds seemed so grateful and interested. When they were done with lunch, the newlyweds took the address and I'm assuming other information and departed. As the older couple was getting ready to leave, I noticed the man wiping something white off of his pant leg and shoe. As I approached to see what the problem was, he slid the creamer bottle back onto the table. It had opened up in his coat pocket and was dripping down his pant leg.
A security guard was sitting at the lunch counter and also saw him put the creamer back. He rolled his eyes at me and got up and took the couple to the security office. About an hour later the guard came back and asked me if I had noticed anything else missing from the table. I said no. Then he handed me a mustard jar and said "here, they had the mustard too". I fell apart laughing and had to go into the supply room until I could compose myself. You just can never tell a book by its cover. I thought to myself that chances were good there was no place in Florida and I hoped that the newlyweds didn't get stung.
To this day I still think about my two years at the luncheonette and all of the colorful people I met along that journey. It was a fun place to work and offered me a glimpse into the history and the people of downtown Minneapolis.